Among My Klediments:
This was June's very first book and i really enjoyed reading it. It's an autobiography and she basically
talked about everything except for her two previous husbands Carl Smith and Rip Nix. I think she gave
them both about a sentence, and never said why she divorced either one. June was an amazing writer
and she definitely had a lot of interesting stories to share with us. If you're a June fan then you should
definitely read it....most public libraries have it in stock, so if you don't want to buy it check your local
library first.
From the Heart
:
This book was AMAZING! When I started reading this book, I couldn't put it down, and I finished it the first
day i got it. Reading isn't one of my favorite things to do, so for me to not be able to put a book down, then
you know it's got to be great. It wasn't another autobiography because she already wrote one in
Among my Klediments
, so this book gave her the freedom to write about anything she wanted to. She
shares a lot of funny stories, such as "dog hair", and a camping trip she took with Johnny, and her son John Carter..basically June tells you shes not an outdoorsy sort of gal. She also goes into detail about a very
terrifying break in on Christmas day at their home in Jamaica.....I seriously wanted to get on a plane to
Jamaica and fight somebody...I'm still very bitter about that incident in case you couldn't tell.
Anchored In Love: An Intimate Portrait of June Carter Cash
:
I loved the pictures in this book! This book tells a lot of the same stories June did in her books, and you really don't learn anything new about her, but it's still a good book to read. John Carter basically sums up his childhood for you, and it turns out that John and June aren't that perfect couple like it implies in the movie "Walk the Line", but what couple is? Unlike June's books, we actually got more information regarding June's two previous marriages. June's marriage to Rip Nix is beyond confusing...apparently they never fought so I don't understand why their marriage couldn't work....I think there's more to it then just "she was in love with Johnny Cash", but what do I know? John Carter also talks about June's daughter Rosey, and how she gave June a hard time and had problems with drugs and everything. I got the impression that Rosey was the "problem child." What I didn't like about this book was how John Carter went into details about June's death....it was just to much information, and I really don't like to be reminded that shes dead, its to sad.
Mother Maybelle's Cookbook:
If you can get yourself a copy of this book then you will be very happy you did. Being a Yankee, i had no idea
what a lot of the food she was making was and i didn't like any of the meals June put in this book (I'm very
picky and I don't like to try new things.) This is more then just a cook book, it has stories and pictures too.
The dessert section definitely has potential so I'll definitely try to make something from there......there's a
recipe for "monster cookies", that sound really good so thats probably what I'm going to attempt first.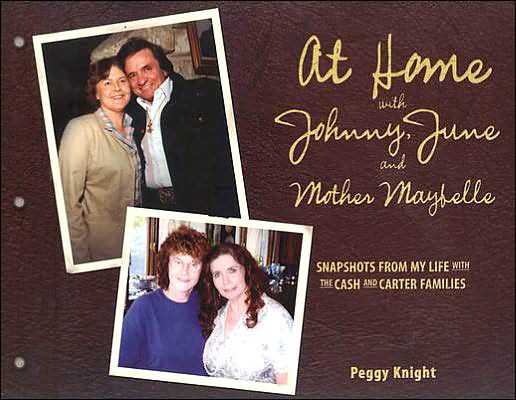 This Book, has the best pictures you will ever see of June, John, and their family. Each picture had a description to go along with it, and it really was a nice thing to see. This isn't really a "book", its more like a scrapbook. The book is 96 pages and its packed with pictures. My favorite pictures in this book are the ones of June and John in those Bob Marley Jamaican hats with the brown dreads coming from it....it was really funny :) .
My 33 Years Inside the House of Cash:
This book was amazing!! Peggy Knight shared so many things about her good friends June and Johnny Cash. She worked with the Carter/Cash gang for 33 years, and had a lot of information in her books that other books don't have. She shared their favorite restaurants, hobbies, who their friends were, and most importantly, what they were like in real life. After reading this book, i can now say that i know Johnny Cash didn't wear black underwear...because he never wore any lol. This book is full of great stories and information and I recommend it to any fan of the Carter/Cash's.